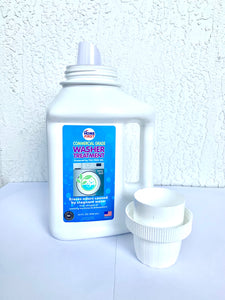 Erases mold & stagnant water odors from washing machines & dishwashers
Mold Monster washing machine and dishwasher cleansing solution is tough on musty odors from mold and mildew buildup. Washing machines and dishwashers all develop mold mildew over time from remnant water in the drums, lines and drains... are your clothes and dishes really clean? 
Smell your washing machine and you'll realize how badly you need the Mold Monster Washer treatment!
Usage & Instructions:
Clothes Washing Machines
Add 2 oz. to your empty washer and run for one cycle with no clothes in washer.
Leave door open to dry after cycle has completed.
Repeat every two weeks.
Dishwashers
Add 1 oz. to pre-wash compartment.
Run on hot/sani-rinse for 1 cycle with no dishes.
Repeat every two weeks.
Specifications:
Size: 4 oz. bottle.
Use per cycle - Dishwasher: 1 oz.
Use per cycle - Washing Machine: 2 oz.
Frequency of Use: Every two weeks
Active Ingredient: Natural Australian Tea Tree Oil
Made in the USA
Clothes Washer Compatibility:  All types; HE and Non-HE, Top and Front Loading
Popular Uses:
Dishwashers

Washing Machines; HE and non-HE, front and top loading
Non-Ultrasonic Humidifiers