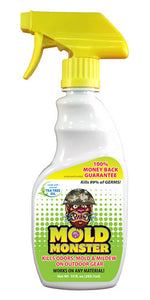 Kill odors, mold & mildew on fabric, plastic, foam and vinyl! 
Formulated for exterior applications where the elements, moisture and infrequent use lead to musty odors and dangerous mold.
Deodorizes and disinfects, working  as an antiseptic, destroying bacteria including MRSA, Staph and Strep.  
Nontoxic and environmentally friendly antimicrobial agent kills odor-causing mold, bacteria and foul smelling fungus.
Prevents mold from growing for up to two weeks after use leaving a fresh eucalyptus scent.
Specifications:
Size: 10 oz.
Spray Bottle
Active Ingredient: Natural Australian Tea Tree Oil
Made in the USA
Common Applications:
Outdoor furniture and cushions
Outdoor rugs and carpets
Boats and marine equipment
Recreational Vehicles (RVs)
Tents, sleeping bags and camping equipment
Sports equipment lockers